Sasha's Bloc – Runaway Blues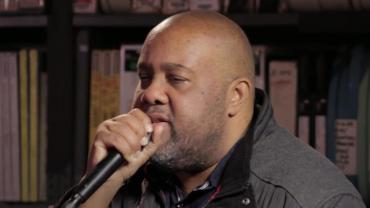 Sasha's Bloc has earned an enormous amount of praise since their 2013 full length debut Melancholy, but their newest song "Runaway Blues" represents an adjustment in direction compared to their previous work. The band has never failed to incorporate strong vocals into their recordings and performances, but their collaboration with the vocal group Take 6 on this new track takes the vocal strengths stratospheric. The music and singing are in perfect accord with one another thanks to a stellar production job and the seasoned restraint professional musicians of this caliber bring to anything they do. Sasha's Bloc recordings have always epitomized skill and class – "Runaway Blues" is no different. It varies their musical vocabulary some, but the melodic language remains the same in important ways.
Melody is the all important factor. Each of the song's primary instruments, particularly piano and brass, leave the song sparkling with their melodic grace. The piano undergoes a satisfying transformation from pure gospel into a much more romping style in the song's second half that, despite its energy, manages to keep impressive lyrical qualities. The rhythm section is unobtrusive, but important, and maintains a consistent pulse crucial to the song's understated swing. Sasha's Bloc's vast knowledge of big band and jazz is, naturally, a key element in the success of this track. They move through the arrangement with effortlessness and bring real feeling and weight to every passage.
Lead vocalist Alvin Chea excels with his performance. The backing vocals that support him are, frankly, added gravy to an already ample feast of a singer in full command of his powers. His delicate phrasing and judicious use of emphasis takes an already strong lyric and raises it to the level of performed poetry. Sasha's Bloc could have scarcely hoped for a better interpreter of this material. Not only is his performance fine as a stand-alone outing, but Chea brings the added bonus of a front man with the good sense to sing with his musicians rather than attempt upstaging or distinguishing himself in an unhelpful way.
The arrangement is perfectly constructed for the song's length, genre, and intended audience. Music devotees are the likely bread and butter of the band's success and they will undoubtedly flock to the airtight dynamics and steady-handed build that marks the track. New instruments come in as "Runaway Blues" progresses and their introductions are handled with great taste and a good ear.
These big band and jazz giants have come up with a winner in "Runaway Blues". It shows the music world that Sasha's Bloc isn't content with whatever labels they may have been assigned and that they are only as limited as their imaginations allow them to be. Fortunately, for their fans, Sasha's Bloc seems to place no limits on themselves and it results in a musical bonanza for anyone inclined to listen. They may still be flying a hair under the mainstream radar, but Sasha's Bloc can credibly claim to be one of the finest collections of professional musicians working in America today and the quality of this single strengthens that idea.
Cyrus Rhodes
iTunes: https://itunes.apple.com/us/album/runaway-blues-feat.-take-6/id1115481997